Automotive Recycling Equipment -
Built Industry Tough
Superior Recycling Solutions is a manufacturer of end-of-life automotive recycling equipment. We serve a myriad of industries including high volume scrap yards, vehicle dismantlers, self-service vehicle yards, automotive repair shops and more. We have the products and the scalability to serve low volume dismantlers which process a few vehicles each day to large scale operations which process hundreds of vehicles on a daily basis.
Our patented and patent-pending systems range from full-tilt vehicle lifts, designed for the ultimate in processing volume, to portable fluid recovery systems that are built with convenience in mind. Regardless of which of our products you choose for your facility, you'll find quality equipment built in the USA and designed to withstand the rigors of your industry.
We engineer our products with the individual in mind, from safety and ergonomic features for the operator, to strict EPA compliancy adherence for the business owner, you'll find our vehicle recycling equipment second to none when it comes to recovering every last drop of oil, gasoline and other hazardous fluids from your vehicles. Our oil recovery systems can also separate fluids to further increase profitability by allowing you to reuse or sell your recovered and refined fluids.
If you choose to outfit your entire facility with SRS equipment, you'll get the advantage of a system that works harmoniously together to keep vehicles processing through your facility at a speed you never thought possible. We invite you to browse our website to view our innovative line of automotive fluid recovery products and fill out our complimentary facility upgrade estimate to learn how your operations can benefit from SRS equipment.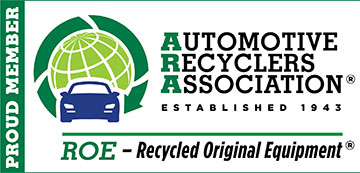 Why Do More Auto Recyclers Choose Us?
Quality Components
Our products utilize industry leading pneumatic pumping technology, giving you the most powerful extraction tool with nearly double the cycle rate of traditional pumps.
Built Industry Tough
Built to last, our fluid recovery systems include pumps specifically designed for the automotive recycling industry complete with industrial grade fittings and components. Comfortable, aircraft grade aluminum gun assemblies are paired with heavy gauge steel construction and a durable powder coat finish.
Industry Leading ROI
Time is something you can never get back. SRS products are Built Industry Tough to save you lots of it. Designed by auto recyclers for auto recyclers. We know how to keep the green in your wallet and not on the ground.
Established and Trusted
For over 30 years SRS has been a trusted name in automotive fluid recovery and an innovating leader in the industry.
Get Facility Upgrade Estimate
Take Your Facility to the Next Level
Get a complimentary estimate to upgrade your facility with our cutting edge fluid recovery equipment.
Get Started